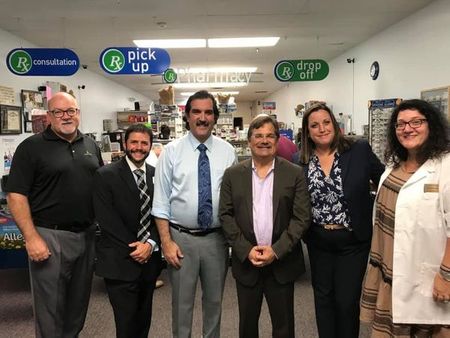 About Us
When people say family pharmacy, they mean Tarpon Discount Drugs. Aspasia Haskopoulos-Manias and Steven Haskopoulos are sister-brother owners and operators. With family roots in Tarpon Springs since 1903 they have developed a highly personal patient relationship. Everyone who enters Tarpon Discount Drugs is a stranger only once.
They have a reputation of great patient care, low prices and plain old concern for each individual that walks through their door. They work fast and efficiently to provide their patients with the service they deserve. Aspasia Manias, Steven Haskopoulos and Sheila Hatzileris will do what is needed to guarantee the patient's well being and satisfaction.
Aspasia, a graduate of Long Island University is married to Nikitas Manias and have an 8 year old daughter named Evangelia. She has practiced pharmacy locally since 1989. Steven is married to Lillie Troia and they have two children Taryn and Louis. Steven has 15 years of pharmacy experience. Sheila is married to Antoni Hatzileris and they have two children Dimitrios and Alexandra. Sheila's presence in the pharmacy is evident the minute you walk throught the front door. She greets everyone with a friendly "hello" and is eager to help the customer find what they are looking for. Her ability to provide personalized service is second to none. Aspasia, Steven and Sheila work together to make the pharmacy experience a more pleasant one for anyone walking through their doors. All three can speak Greek which sometimes can be helpful. Steven also speaks Spanish.
Tarpon Discount Drugs goals are to maintain personal patient care, which includes getting prescriptions ready when promised, fast and courteous service, competitive pricing and delivering medications when necessary. They also offer compounding services when the need arises and medications need to be specially made. The pharmacy carries a full line of over-the-counter medications, vitamins, herbs and nutritional supplements. The also carry a full line of Florida Orthopedic medical supports as well as commodes, wheelchairs and walkers.
Community involvement is important to Tarpon Discount Drugs. They sponsor local health fairs, provide flu and pneumonia shots and free cholesterol and blood pressure screenings. The can also help with any Medicare Part D questions you may have, either themselves or through Medicare Part D representatives that visit the store.
Tarpon Discount Drugs is the "hometown pharmacy of the past" with the patient care and drug knowledge of the future. They accept most major insurances, workman's compensation and PIP insurance.